November 10, 2015
As a thank you to Veterans we are honored to provide a complimentary lunch on Veterans Day 11.11.2015.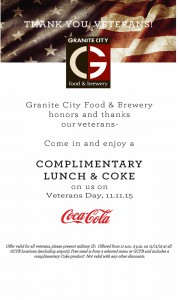 Category: Uncategorized
---
@gcfb
"Enjoy our New Chef's Seasonal Beer and Features menu. View what's on our menu this month at https://t.co/EtbYDdqL0w https://t.co/or80FNswcP"
"Happy Friday! 🍻"
"Granite City Food & Brewery - Leisure and Hospitality International https://t.co/PlVIMZtxmd"
"We are hosting Mother's Day Sunday Brunch. View our menu at https://t.co/gLxCyUfRWU. *Price may vary by location, s… https://t.co/4l9hDKRK0I"
"The weekend is so close, yet so far away. Enjoy our NEW beverage menu and cocktails we added! #HappyHour 🍺 🍸 🍷 https://t.co/zRjTAotF4P"