Naperville, Illinois
1828 Abriter Court Naperville, Illinois 60563
630.544.3700 Get Directions
Open today from 11 AM - 11 PM
Full Menu until 10 PM - Appetizers/Pizzas until 11 PM - Drinks until Midnight
See All Hours
Make a Reservation
Scenery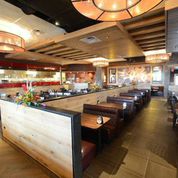 Hours
Monday - Thursday
Open: 11AM - 11PM
Full Menu until 10PM
Appetizers/Flatbreads until 11PM
Drinks until 11PM
Friday & Saturday
Open: 11AM - Midnight
Full Menu until 10PM
Appetizers/Flatbreads until Midnight
Drinks until Midnight
Sunday
Open: 10AM - 10PM
Brunch 10AM - 2PM
Full Menu until 9PM
Happy Hour
Mon - Fri: 3PM - 6PM & 9PM - Close
Sat: 12PM - 5PM
Sun: 2PM - 5PM
*Daily Drink Specials
Doors will close one hour prior to the posted closing time. Re-entry is prohibited.
Private Events
​Naperville has private event rooms to accommodate private parties from 10-70 of your guests. Contact us at NapervilleEvents@GCFB.net and make your reservations today.
Granite City Beers on Tap
The Northern Lager
Prairie Vixen
The Duke Pale Ale
Batch 1000 Double IPA
The Bennie Bock
Broad Axe Stout
@gcfb
"Did you spend all your money online today? Come drink beer(s) and tell our bartenders all about what you bought. #PrimeDay #GCFB"
"We had a successful JUL-IPA #BeerFest this weekend. What was your favorite IPA we had on tap?"
"Get ready for our first ever Limited Edition Cellar Room Series: Watermelon IPA tapping Friday, July 13th. View mo… https://t.co/QGYMVHKHtb"
"Get ready for a #BeerFest in JULY! We'll be tapping our Limited Time Cellar Room Series: Watermelon IPA on Friday J… https://t.co/eBpWtLW8k6"
"Got plans this weekend? Stop by our JUL-IPA Beer Fest from 12-5pm and enjoy $5 5 IPA Flights. #BeerFest2018 #JULIPA"