Seasonal Beers We Have Tapped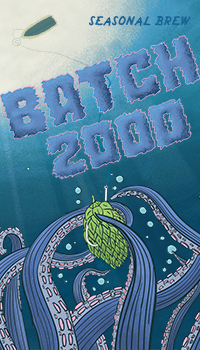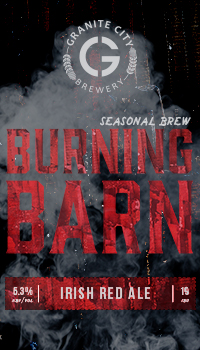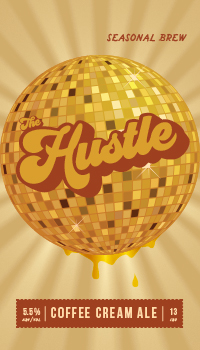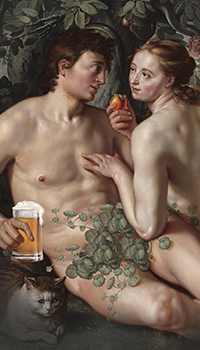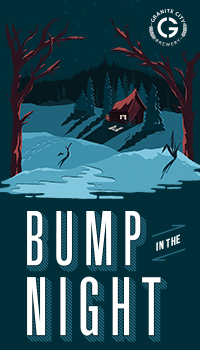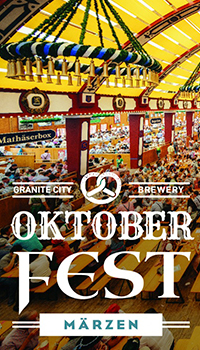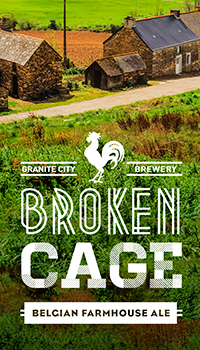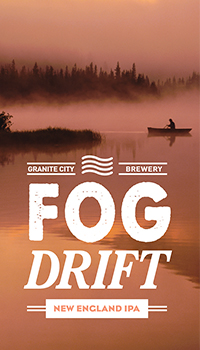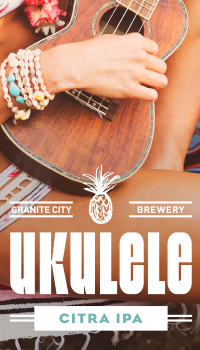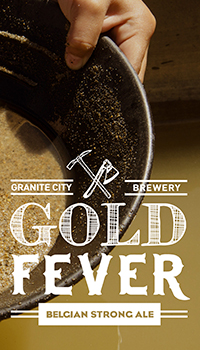 You'll find our signature beers on tap at every Granite City Food & Brewery, plus several seasonal or specialty beers. Whatever your beer preference, we have the perfect brew for you!
Granite City Food & Brewery's signature brews, which are made on-site, include:  The Duke (Pale Ale), The Bennie (Bock), The Northern (American Lager) and Broad Axe Stout (Oatmeal Stout). Seasonal brews are featured throughout the year.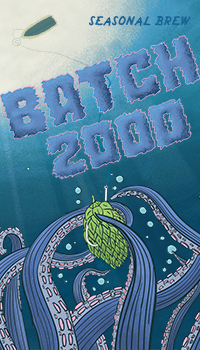 Double IPA
Grain Bill: Two-Row, Carafoam, Caramel 30-37
Hops: Cascade
Flavor: Spicy Citrus with hints of Lemon and Pine
Aroma: Citrus, Lemon & Grapefruit
General Food Pairings: Seafood, Hearty dishes & Carrot Cake
GC Food Pairings: Idaho Nachos, Mahi, Tinga and Asian Shrimp Tacos, Spicy Chicken Sandwich, Salmon Citrus Salad, Ponzu Salmon & Ahi Tuna
Get More Info: Batch 2000 Seasonal Menu

Style: Double IPA
Color: Golden Orange
Body: Medium
ABV: 8.5%
IBU: 78
Availability: April - June 2019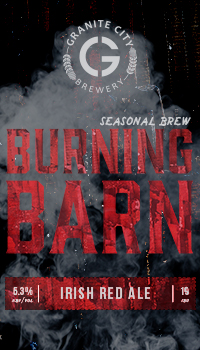 Irish Red Ale
Grain Bill: Two-Row, Munich, Medium Crystal
Hops: Cascade
Flavor: Caramel, almost candy like taste complimented by a balanced hop profile with hints of dried stone fruit at the finish
Aroma: Hints of dried stone fruit
General Food Pairings: Hearty dishes, Grilled BBQ
GC Food Pairings: Bedda Chedda Burger, BBQ, Maple Pepper Bacon Flatbread, Buffalo Chicken Wings, Steak & Potatoes
Get More Info: Burning Barn Seasonal Menu

Style: Irish Red Ale
Color: Red Amber
Body: Medium
ABV: 5.3%
IBU: 19
Availability: March 2019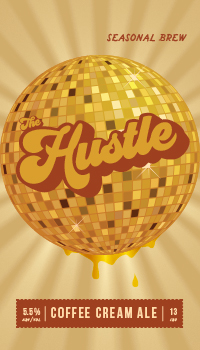 Coffee Cream Ale
Grain Bill: Two-Row, Carafoam, Corn
Hops: Cluster
Flavor: Velvety smooth white chocolate, coffee, caramel and vanilla tones that finish light, crisp and clean.
Aroma: Soft notes of coffee, chocolate & vanilla
General Food Pairings: Fried Foods, Meat and Desserts
GC Food Pairings: Triple Threat Pork Tacos, Maple Pepper Bacon Burger, BTA Grilled Cheese, Maple Pepper Bacon Flatbread, & Brunch!
Get More Info: The Hustle Seasonal Menu

Style: Coffee Cream Ale
Color: Deep Gold
Body: Light
ABV: 5.5%
IBU: 13

Availability: February 2019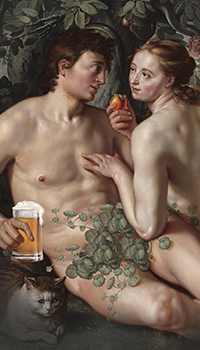 Juicy IPA
Grain Bill: Two-Row, Oats, Pale Wheat, Vienna, Light Munich
Hops: Apollo, Calypso, Mosaic, El Dorado
Flavor: Wickedly smooth, easy drinking beer with a soft luxurious mouthfeel lifted by tons of bright mango and citrus with a clean finish.
Aroma: Burst of Tropical Fruit
General Food Pairings: Pork, Fish, Blue Cheese, Crème Brûlée
GC Food Pairings: Mahi Tacos, Asian Shrimp Tacos, Salmon Citrus Salad, Pork Nachos
Get More Info: Wicked Juicy IPA Details

Style: Juicy IPA
Color: Hazy Sunburst
Body: Full
ABV: 6.8%
IBU: 52

Availability: January - March 2019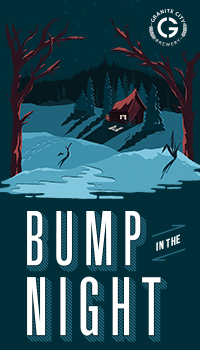 Bump in the Night
Black IPA
Grain Bill: Pale malt, 60L Crystal, 120L Crystal, Black Patent, Chocolate.
Hops: Nugget, Cascade, Citra
Flavor: Malty, roasted coffee bean, subtle hints of chocolate complemented with notes of bright citrus that lead to a hoppy, dry finish.
Aroma: Coffee and Citrus
General Food Pairings: Red meats, cheeses, some spicy foods.
GC Food Pairings: Steaks, Blue Peppercorn Burger, Steak Salad.

Style: Black IPA
Color: Black
Body: Full
ABV: 6.8%
IBU: 88
Availability:
December 2018
Zug Zwang
Vanilla Porter
All the roasted and chocolate flavor that you'd expect from a classic Porter. The addition of real vanilla bean adds unparalleled complexity and a rich, smooth, caramel flavor.
Style: Vanilla Porter
Color: Dark Brown
Body: Full
ABV: 5.7%
IBU: 24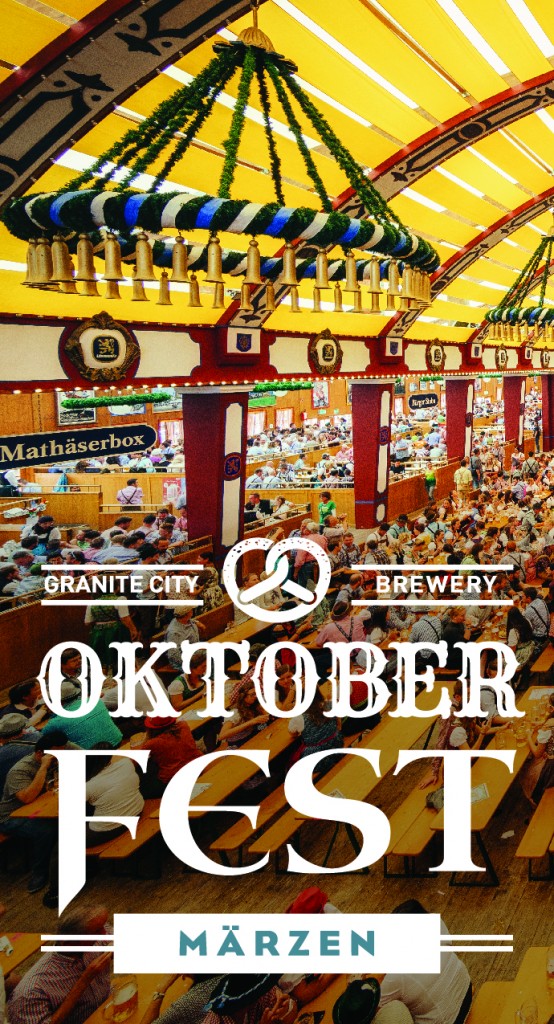 Oktoberfest
German Märzen
Before mechanical refrigeration was developed German brewers would not brew in the summertime because the temperature was too warm to produce good beer. Beer would be brewed in the spring and then stored in cool cellars and caves to help preserve it. Brewing a higher alcohol beer would also help preserve it. The last beer brewed in the spring came to be known as Marzen beers or "March" beers. These beers would be served in the Fall near the time of Oktoberfest celebrations. Ours tastes of sweet maltiness and caramel, with hints of toasted biscuit throughout.
Style: Märzen/Lager
Color: Orangish Amber
Body: Medium
ABV: 6.0%
IBU: 21.8
Blue-Eyed Brunette
Bourbon Brown Ale
This Specialty brew starts with several oak spirals soaked in 12 year, Elijah Craig Bourbon. After a period of 7-10 days we add the Bourbon infused Oak Sprials to our traditional Brown Ale. We then allow the Brown Ale at least 21 days of "aging" on these Bourbon infused Oak Spirals. This produces a flavor profile with subtle hints of Oak & Bourbon complimented by the roundness and nuttiness of the English variety brought to you by the best English crystal malts and English hops.
Style: Bourbon Oak Aged Brown Ale
Color: Brown
Body: Medium
ABV: 5.6%
IBU: 42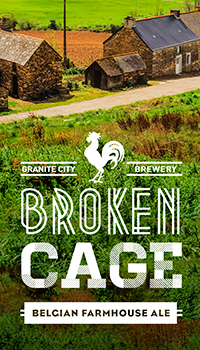 Broken Cage
Belgian Farmhouse Ale
Broken Cage has aromas of orange and citrus, accentuated by the addition of Mosaic dry hops, with a hint of pepper to the nose. A soft malt body allows the complexity of the spicy & sweet notes to shine through, finishing with Champagne-like dryness and peppery kick.
Style: Belgian Ale
Color: Deep Gold
Body: Light
ABV: 5.5%
IBU: 23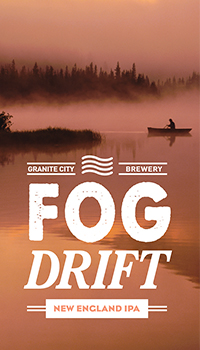 Fog Drift
New England IPA
Juicy hop aromas pronounced in tangerine and peach with a smooth, semi-sweet body adding notes of melon, orange citrus and pear for a refreshing finish. Hazy in color, like the fog drifting over our lakes during a hot summer sunrise.
Style: New England IPA
Color: Hazy Pale Gold
Body: Light
ABV: 6.8%
IBU: 31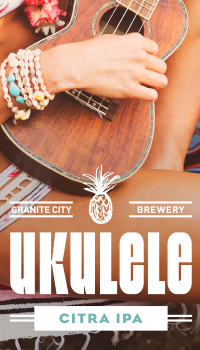 Ukulele
Citra IPA
The Citra Hop is a duel purpose hop. Meaning it can be used for both flavor and bitterness in beer. It's popularity over the last few years has grown because of the strength and intensity of its tropical fruit flavors and aromas. Our Ukulele Citra IPA is brewed with loads of Citra hops for bitterness and dry hopped with even more Citra hops for aroma and flavor. This beer Explodes with tropical aromas of mango and passion fruit. It's a perfect summer time taste bud tingler with flavors of mango, papaya and even pineapple giving way to a honey kissed body with a sweet and slightly bitter finish.
Style: Citra IPA
Color: Pale Golden
Body: Light
ABV: 6.5%
IBU: 70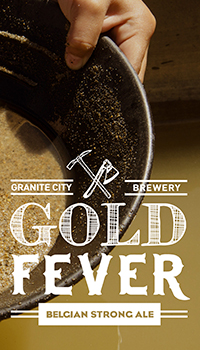 Gold Fever
Belgian Strong Ale
A very Unique yeast strain with origins in Belgian 'spontaneous fermentation' provides the most prominent flavors in the Gold. A beautiful golden-colored ale, with strong fruity, spicy and malty flavors. Belgian Golden ales are a perfect introduction to the world of Belgian beers. Subtle hints of apple, pear, cinnamon and clove meld with hearty maltiness to yield a clean, slightly-sweet ale with a crisp finish. This beer is very drinkable but be careful; this beer is strong and should be sipped and savored.
Style: Belgian Strong Ale
Color: Golden
Body: Full
ABV: 7.8%
IBU: 29.5
@gcfb
"Congrats to our Fargo, ND location! https://t.co/FAixVqVThT"
"To celebrate our win in the 2018 GABF® Silver Medal in the Dark Lager category, we're pouring Bennie Bock pints for… https://t.co/LSr9vrHz4o"
"Bigger. Stronger. Badder. Batch 2000. NEW and Now On Tap! See Beer Info: https://t.co/mn8n5hgWpd"
"Love our Batch 1000? We have reinvented this recipe to be Bigger, Badder and more BOLD! Batch 2000 is Now On Tap!… https://t.co/H297gRWGi3"
"What's your favorite #IrishFest deal?"