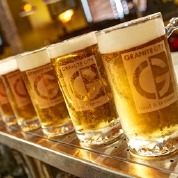 Burgers in Naperville


Granite City Food & Brewery proudly invites you to come in for a gourmet GC steakburger, hand crafted from the best beef and fresh ingredients piping hot to your table. We serve our signature GC steakburger with natural-cut fries, kettle chips, or GC coleslaw. Our Naperville location specializes in made to order burgers for you, your friends, and your whole family. It's Granite City Food & Brewery, we are a restaurant and a brewery, come for one, either, or both and bring everyone. Our burgers are the reason people still come to restaurants. Burgers are an American staple and Granite City Food & Brewery does burgers just right.
For more information on our ingredients, toppings, and cook temperatures of our burgers, please contact our Naperville location directly at 630.544.3700 or fill out the simple form to the right and we will get back to you shortly.
Finally Real Burgers in Naperville
The GC steakburgers have truly brought pride back to going out for burgers. From Half-pound to Ten Ounces of burger, you will get your fix with a GC steakburger or try the Bison Burger. The best part is you can't go wrong with any of our burgers at the Naperville Granite City Food & Brewery because they are all delicious. You will come back to try each one and then more for seconds.
Be sure to try the "Big Show" Burger which is a half-pound GC steakburger with pulled pork, BBQ sauce, cheddar cheese, crispy onion rings, on a pretzel bun. It's a crowd favorite so you might as well come in knowing what you are going to try.
Make A Reservation for Burgers in Naperville Now
To book a reservation for a group of friends, your family, coworkers, or even solo, give us a call right now at 630.544.3700 or make a reservation right at the top of our Menu page here.