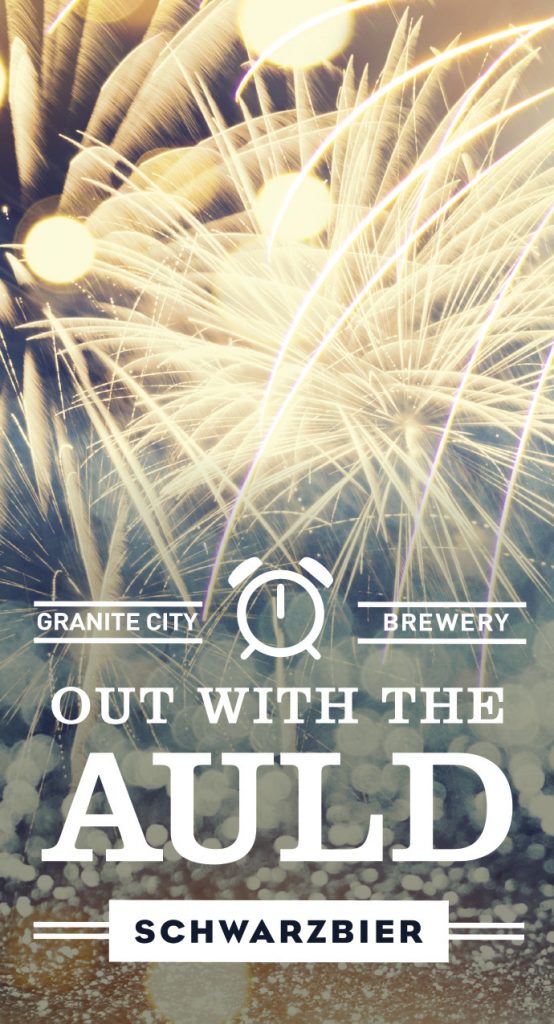 Out With The Auld
Schwarzbier
---
Available from January 1st until January 30th
Our schwarzbier has aromas of roasted nuts and dark chocolate with a slightly dry light body. Enjoy a roasted grain flavor with bittersweet chocolate notes. Considered a soul lifting beer, with depth of color and taste, that make a great winter alternative for the New Year.
Style: Schwarzbier
Color: Black
Body: Light
Alcohol: 5.2%
IBU: 27.9

---
Out With the Auld,
in with a new world of flavor!
Mediterranean Crab and Parmesan Brûlée
Served with garlic toast, crispy panko crusted artichoke, and zucchini fries for your dipping pleasure. $11.95
The Havana Bricked Sandwich
Slow-roasted pulled pork, sliced prosciutto ham, salami, Swiss cheese, schwarzbier mustard, and garlic pickles on a toasted baguette. Served with your choice of a side. $11.95
Asian Steak Sandwich
Schwarzbier garlic ginger-marinated flank steak over sweet chili cabbage slaw, finished with pickled carrot, jalapeno, and daikon radish on crispy toasted baguette served with choice of side. $14.95
Argentinian Steak Platter
Schwarzbier-marinated flank steak with Argentinian chimichurri sauce, avocado, pickled shallots, seasoned black beans with queso fresco, and cilantro lime rice. Served with warm flour tortillas. $16.95
@gcfb
"Enjoy our New Chef's Seasonal Beer and Features menu. View what's on our menu this month at https://t.co/EtbYDdqL0w https://t.co/or80FNswcP"
"Happy Friday! 🍻"
"Granite City Food & Brewery - Leisure and Hospitality International https://t.co/PlVIMZtxmd"
"We are hosting Mother's Day Sunday Brunch. View our menu at https://t.co/gLxCyUfRWU. *Price may vary by location, s… https://t.co/4l9hDKRK0I"
"The weekend is so close, yet so far away. Enjoy our NEW beverage menu and cocktails we added! #HappyHour 🍺 🍸 🍷 https://t.co/zRjTAotF4P"