Naperville, Illinois
1828 Abriter Court Naperville, Illinois 60563
630.544.3700 Get Directions
Open today from 11 AM -Midnight
Full Menu until 10 PM - Appetizers/Pizzas until 12 PM - Drinks until Midnight
See All Hours
Make a Reservation
Scenery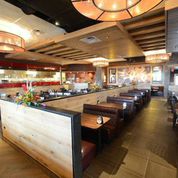 Hours
Monday-Thursday
Open 11 AM - 11 PM
Full Menu until 10 PM
Appetizers/Pizzas until 11 PM
Drinks until 11 PM
Friday & Saturday
Open 11 AM -Midnight
Full Menu until 10 PM
Appetizers/Pizzas until Midnight
Drinks until Midnight
Sunday
Open 10 AM - 10 PM
Brunch 10 AM - 2 PM
Full Menu until 9 PM

Doors will close one hour prior to the posted closing time. Re-entry is prohibited.
Private Events
​Naperville has private event rooms to accommodate private parties from 10-70 of your guests. Contact us at NapervilleEvents@GCFB.net and make your reservations today.
Granite City Beers on Tap
The Northern Lager
The Duke Pale Ale
Batch 1000 Double IPA
The Bennie Bock
Broad Axe Stout
@gcfb
"Enjoy our New Chef's Seasonal Beer and Features menu. View what's on our menu this month at https://t.co/EtbYDdqL0w https://t.co/or80FNswcP"
"Happy Friday! 🍻"
"Granite City Food & Brewery - Leisure and Hospitality International https://t.co/PlVIMZtxmd"
"We are hosting Mother's Day Sunday Brunch. View our menu at https://t.co/gLxCyUfRWU. *Price may vary by location, s… https://t.co/4l9hDKRK0I"
"The weekend is so close, yet so far away. Enjoy our NEW beverage menu and cocktails we added! #HappyHour 🍺 🍸 🍷 https://t.co/zRjTAotF4P"