Davenport, Iowa
5270 Utica Ridge Road Davenport, Iowa 52807
563.344.9700 Get Directions
Open today from 9 AM - 10 PM
Brunch 9 AM - 2 PM - Full Menu 11 AM - 9 PM - Drinks until 10 PM
See All Hours
Make a Reservation
Delivery
Looking to cater your office event? We can help, book your catering with Granite City Brewery today.
Scenery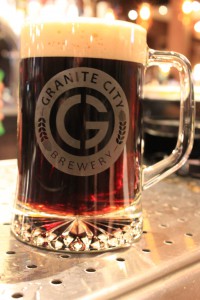 Hours
Monday - Thursday
Open: 11AM - Midnight
Full Menu until 10PM
Appetizers/Flatbreads until 11PM
Drinks until Midnight
Friday & Saturday
Open: 11AM - 1AM
Full Menu until 11PM
Appetizers/Flatbreads until Midnight
Drinks until 1AM
Sunday
Open: 9AM - 10PM
Brunch: 9AM - 2PM
Full Menu 11AM - 9PM
Drinks until 10PM
Happy Hour
Mon - Fri: 2PM - 6PM & 9PM - Close
Sat: 12PM - 5PM
Sun: 2PM - 5PM
Granite City Beers on Tap
The Northern Lager
The Duke Pale Ale
The Bennie Bock
Broad Axe Stout
@gcfb
"A beer 🍺 a day, keeps the bad vibes away. #FridayThe13th"
"Mark your calendars. #Oktoberfest is tapping September 21st + 3 Chances to win Beer for a Year! 🥨Oktoberfest Info: https://t.co/cNzpXBEgcK"
"It's Friday and we're ready to Party! Come grab beers and small plates for happy hour and start the weekend off rig… https://t.co/yKwf4whbTG"
"Game Day Specials available every Monday & Thursday begin today. Happy Hour begins at kickoff cuz Sports. https://t.co/vW4q49hMBz"
"#BacktoSchool week can be stressful. We are here for ya and we have good news... Our #Oktoberfest is almost ready t… https://t.co/O8jMx5mwPk"