Cedar Rapids, Iowa
4755 1st Ave. SE Cedar Rapids, Iowa 52403
319.395.7500 Get Directions
Open today from 9 AM - 10 PM
Brunch 9 AM - 2 PM - Full Menu 11 AM - 9 PM - Drinks until 10 PM
See All Hours
Make a Reservation
Delivery
Looking to cater your office event? We can help, book your catering with Granite City Brewery today.
Scenery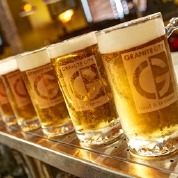 Hours
Monday - Thursday
Open: 11AM - 11PM
Full Menu until 10PM
Appetizers/Flatbreads until 10PM
Drinks until 11 PM
Friday & Saturday
Open: 11AM - Midnight
Full Menu until 11PM
Appetizers/Flatbreads until 11PM
Drinks until Midnight
Sunday
Open: 9AM - 10PM
Brunch: 9AM - 2PM
Full Menu 11AM - 9PM
Drinks until 10PM
Happy Hour
Mon - Fri: 3PM - 6PM & 9PM - Close
Sat: 12PM - 5PM
Sun: 2PM - 5PM
Granite City Beers on Tap
The Northern Lager
Prairie Vixen
The Duke Pale Ale
Batch 1000 Double IPA
The Bennie Bock
Broad Axe Stout
@gcfb
"Donut worry, be happy it's Sunday and you can finally enjoy the #LawlessBrunch https://t.co/h2Qj74drGe"
"With over 300 combinations, you can't go wrong with our new Bloody Mary Experience. Check your local GC for pricin… https://t.co/TpoiMyEDlN"
"🚨LAST CALL!🚨 We will be discontinuing our Batch 1000 & Prairie Vixen beers. Come in and get your growlers and pitc… https://t.co/0YQXb12b0s"
"Stack it high or lay low, whatever your choice, you're in control of your brunch experience. Visit the Lawless Br… https://t.co/b28hhBsqz6"
"You're the boss of your brunch here. Design your own donut or create your perfect Omelet at our two new creation st… https://t.co/T64DllOEuG"