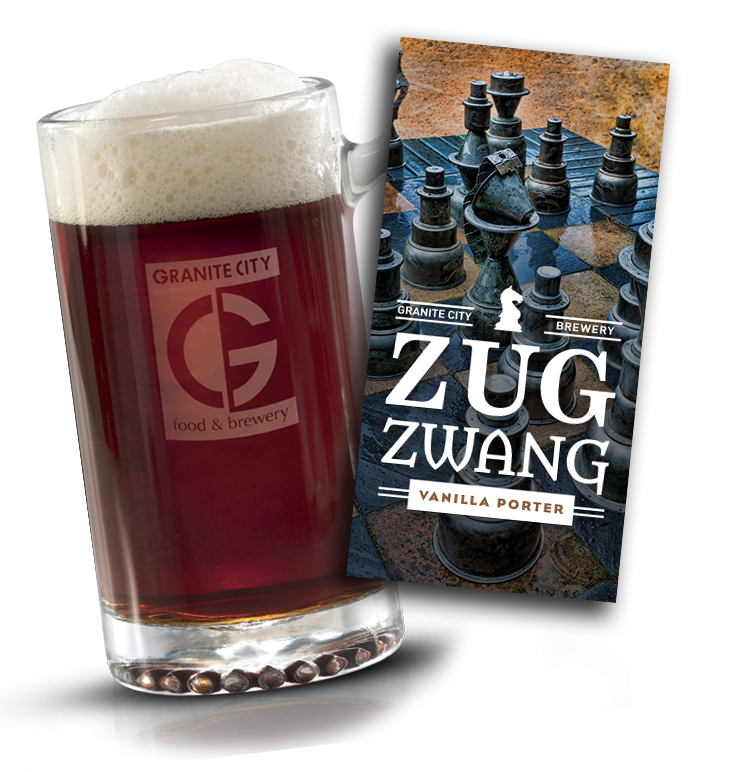 Here's What We're Pouring.
All the roasted and chocolate flavor that you'd expect from a classic Porter. The addition of real vanilla bean adds unparalleled complexity and a rich, smooth, caramel flavor.
Zug Zwang
/
Vanilla Porter
| Style | Color | Body | Alcohol | IBU |
| --- | --- | --- | --- | --- |
| Vanilla Porter | Dark Brown | Full | 5.7% | 24 |
View the Menu
Food Pairings
We care about your taste buds, and so should you.
Not Your Routine Poutine
The VP Cheesesteak
Porter Pot Roast

---
NOT YOUR ROUTINE POUTINE
Crispy tater tots topped with Zug Zwang-braised pot roast in Vanilla Porter gravy blanketed in Swiss cheese sauce and green onion.
THE VP CHEESESTEAK
Shaved sirloin in rich porter gravy, caramelized onion, sautéed mushroom, covered with Swiss cheese sauce and tucked in a grilled baguette. Served with French fries.
BLUE RIBBON TURKEY DINNER
Oven-roasted turkey breast over sage stuffing with roasted garlic redskin mashed potatoes and Vanilla Porter gravy. Served with house-made cranberry chutney.
PORTER POT ROAST
A rich, hearty dish of Zug Zwang-braised pot roast and root vegetables served in a rich porter gravy with roasted garlic redskin mashed potatoes.
*Please view your Granite City Brewery
location
for pricing.
Food Pairings
Sign up to receive information about all of our special monthly promotions.
Get $10 off your $30 purchase. Sign up now to receive information about new beer releases, news and our special monthly promotions.
Sign up for E-Club
@gcfb
"Today is a great day to grab beers with your friends before Thanksgiving. We have $5 Pitchers of craft beer all day… https://t.co/92LscRiaHa"
"Zug Zwang Beer Facts: Our Vanilla Porter is made with Apollo & Willamette hops and real vanilla beans. #ZugZwang"
"What year did Granite City Brewery open?"
"Turkey, stuffing, mashed potatoes, OH MY! Our Blue Ribbon Turkey Dinner is 🔥 #SeasonalMenu https://t.co/H1UCRzFxNr"
"Get ready for our one day only Black Friday gift card sale! Purchase $100 in gift cards and receive $40 in bonus ca… https://t.co/U7EbjaAtuv"