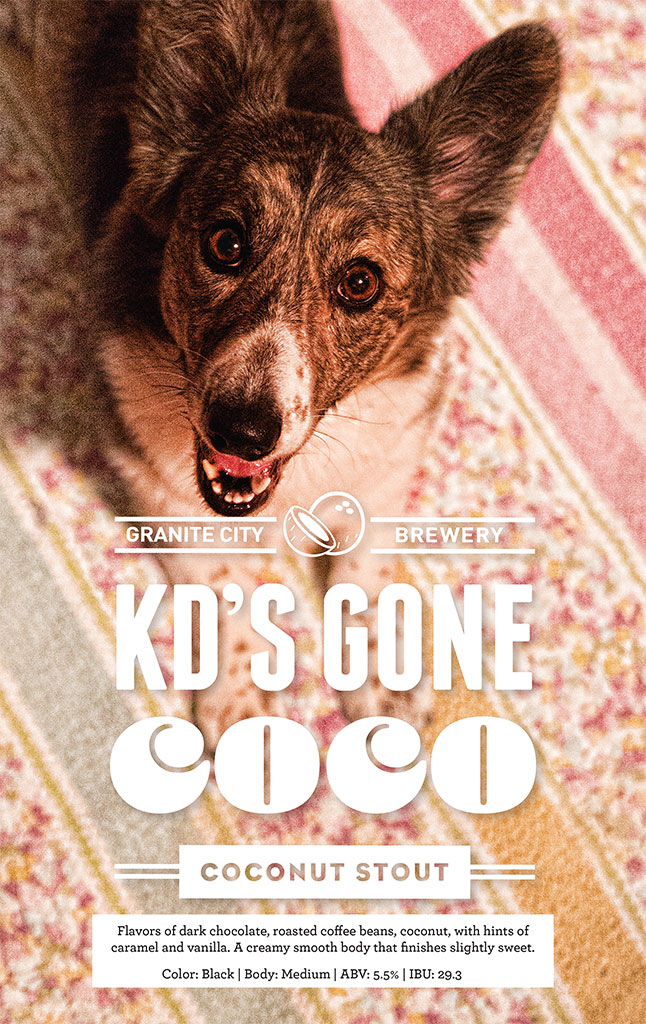 KD's Gone CoCo
Coconut stout
---
Available from February 1st until February 28th
Our coconut stout has flavors of dark chocolate, roasted coffee beans, coconut, with hints of caramel and vanilla. A creamy smooth body that finishes slightly sweet.
Style: Coconut Stout
Color: Black
Body: Medium
Alcohol: 5.5%
IBU: 29.3

---
Louisiana Crab Cakes
Two large crab cakes with jalapeño, green onion, garlic, and Asiago cheese. Finished with a light, lemon butter sauce and fresh jicama slaw. $15.95 
French Quarter Burger
Half-pound Granite City steakburger topped with caramelized onions, bubbly melted Provolone cheese, and crispy fried shallots over balsamic mixed greens on a toasted bun. Served with your choice of side. $11.95
Ooooowie! Jambalaya
Andouille sausage, chicken, shrimp, bell peppers, celery, onion, and garlic in a classically seasoned sauce. Served over Louisiana rice with jalapeño cornbread. $16.95Shrimp-only Jambalaya, available upon request.
"The Lunker" Walleye Sandwich
Breaded walleye fillet, lightly fried golden brown, and served on a soft hoagie with house-made tartar sauce and shredded lettuce. Served with your choice of side. $15.95Pan-seared, Cajun-style, available upon request.
@gcfb
"Enjoy our New Chef's Seasonal Beer and Features menu. View what's on our menu this month at https://t.co/EtbYDdqL0w https://t.co/or80FNswcP"
"Happy Friday! 🍻"
"Granite City Food & Brewery - Leisure and Hospitality International https://t.co/PlVIMZtxmd"
"We are hosting Mother's Day Sunday Brunch. View our menu at https://t.co/gLxCyUfRWU. *Price may vary by location, s… https://t.co/4l9hDKRK0I"
"The weekend is so close, yet so far away. Enjoy our NEW beverage menu and cocktails we added! #HappyHour 🍺 🍸 🍷 https://t.co/zRjTAotF4P"