Edition #1
Louis Knox Executive Chef, Roseville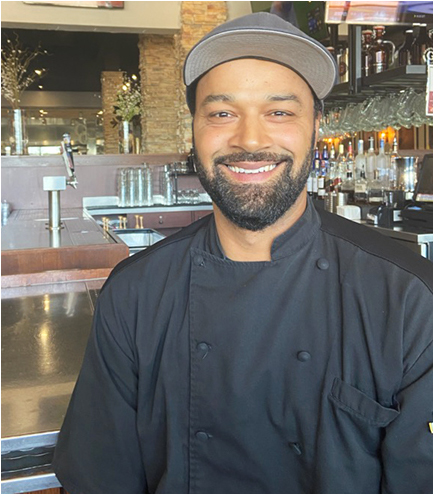 "… one must have integrity when facing any of the challenges that come out of this industry. From the bottom to the top this approach will benefit you, your staff, and company as a whole."
Meet Louis Knox, our Executive Chef at our Roseville Granite City location. Louis was kind enough to be our first employee to be in the spotlight. Louis has been with Granite City for 11 years, and his career has grown exponentially. Keep reading to see why Louis has chose Granite City as his home.
When did you find your love for cooking?
Growing up, my mother sold fry bread all over the community. On the weekends we would work with vendors to sell her bread, it was around 16 that I really found my passion for cooking.
What were your first few jobs?
My first real cooking job was at the Duluth Radisson, in their rooftop rotating restaurant (JJ Astor) I worked breakfast shift in what we have dubbed the "Creation Station" here at Granite City brunch. From there I was able to work as a cook in several of the hot spots in Duluth such as Green Mill and of course, Famous Daves!
What has been your career progression here at Granite City?
When I moved to Minneapolis I started working as a line cook at Granite City almost immediately. It only took 9 months before I was promoted to an hourly manager role. That's around the time Granite City really exploded and I was given the opportunity to travel around the US opening new locations. It was a very fast paced environment which provided the perfect opportunities to learn and grow. There was a certain satisfaction that came from leading and being apart of opening a new store, from the tiles being laid, to hiring 60+ staff members, to creating dishes with the new staff for the first time. After our success there, I began working with the Corporate Chef and then landed my first Executive Chef gig; I've been here at the Roseville location for 4 years.
Why do you like working at Granite City?
I've built many good relationships here, and have learned so much. Several of the people I have started with have been able to grow and get promoted as well, and that's something that I have loved to see.
What advice do you have for people who want to become an Executive Chef?
There will be plenty of ways I can define success throughout my career, from money to a desired position and so on. But with the difficult circumstances that arise one must have integrity when facing any of the challenges that come out of this industry. From the bottom to the top this approach will benefit you, your staff and company as a whole. Secondly, we all must share our knowledge, in essence this is the foundation of development and ultimately produces dependable staff and a culture of learning and development. It cant be underestimated the value of our interactions at a team member level and how that eventually impacts are guest interactions.
How do you think restaurants can succeed in a pandemic environment?
The most important thing right now is transparency and constant dialogue. All things whether how big or small matter. All in all our guests need to feel safe. Guest experience is our number one priority; we want to offer them a place where they can interact, have fun, and feel a little more normal!