Kansas City, Missouri
8461 NW Prairie View Road Kansas City, Missouri 64153
816.587.3838 Get Directions
Open today from 11 AM - Midnight
Full Menu until 10 PM - Appetizers/Pizzas until 11 PM - Drinks until Midnight
See All Hours
Make a Reservation
Delivery
Looking to cater your office event? We can help, book your catering with Granite City Brewery today.
Enjoy Granite City Brewery from the comfort of your home. Start your delivery order today.
Scenery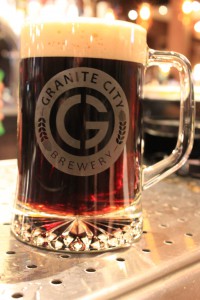 Hours
Monday - Thursday
Open: 11AM - Midnight
Full Menu until 10PM
Appetizers & Flatbreads until 11PM
Drinks until Midnight
Friday & Saturday
Open: 11AM - 1AM
Full Menu until 11PM
Appetizers& Flatbreads until Midnight
Drinks until 1AM
Sunday
Open: 9AM - 10PM
Brunch: 9AM - 2PM
Full Menu 11AM - 9PM
Drinks until 10 PM
Happy Hour
Mon - Fri: 3PM - 6PM & 9PM - Close
Sat: 12PM - 5PM
Sun: 2PM - 5PM
Granite City Beers on Tap
The Northern Lager
Prairie Vixen
The Duke Pale Ale
Batch 1000 Double IPA
The Bennie Bock
Broad Axe Stout
@gcfb
"Every Monday: 🍔 + 🍟 + 🍺 = $10 https://t.co/2PoYCuDgOr"
"Now stop, Oh! and polka wit it! #Oktoberfest https://t.co/sErsAVPaZl"
"We're going to Polka Like It's 1999 all day long, join the fun. #Oktoberfest #PartyZeit"
"Happy #Oktoberfest!!! Stop by for our Partyzeit today. The first 100 guest through the door receive a Limited Editi… https://t.co/7KiOsxV1EQ"
"You want to win Beer For A Year? Enter to win our Limited Edition Hop Handle Growler at any of our locations. Firs… https://t.co/rIsBNm2qJs"