Lyndhurst, Ohio (Legacy Village)
24519 Cedar Road Lyndhurst, Ohio (Legacy Village) 44124
216.297.4495 Get Directions
Make a Reservation
Delivery
Enjoy Granite City Brewery from the comfort of your home. Start your delivery order today.
Scenery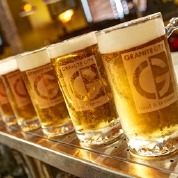 Hours
Monday - Thursday
Open: 11AM - 10PM
Friday & Saturday
Open: 11AM - Midnight
Full Menu until 11 PM
Sunday
Open: 10AM - 9PM
Brunch: 10AM - 2PM
Happy Hour
Mon - Fri: 3PM - 6PM
Sat: 12PM - 5PM
Sun: 2PM - 5PM
Granite City Beers on Tap
The Northern Lager
Prairie Vixen
The Duke Pale Ale
Batch 1000 Double IPA
The Bennie Bock
Broad Axe Stout
@gcfb
"Every Monday: 🍔 + 🍟 + 🍺 = $10 https://t.co/2PoYCuDgOr"
"Now stop, Oh! and polka wit it! #Oktoberfest https://t.co/sErsAVPaZl"
"We're going to Polka Like It's 1999 all day long, join the fun. #Oktoberfest #PartyZeit"
"Happy #Oktoberfest!!! Stop by for our Partyzeit today. The first 100 guest through the door receive a Limited Editi… https://t.co/7KiOsxV1EQ"
"You want to win Beer For A Year? Enter to win our Limited Edition Hop Handle Growler at any of our locations. Firs… https://t.co/rIsBNm2qJs"