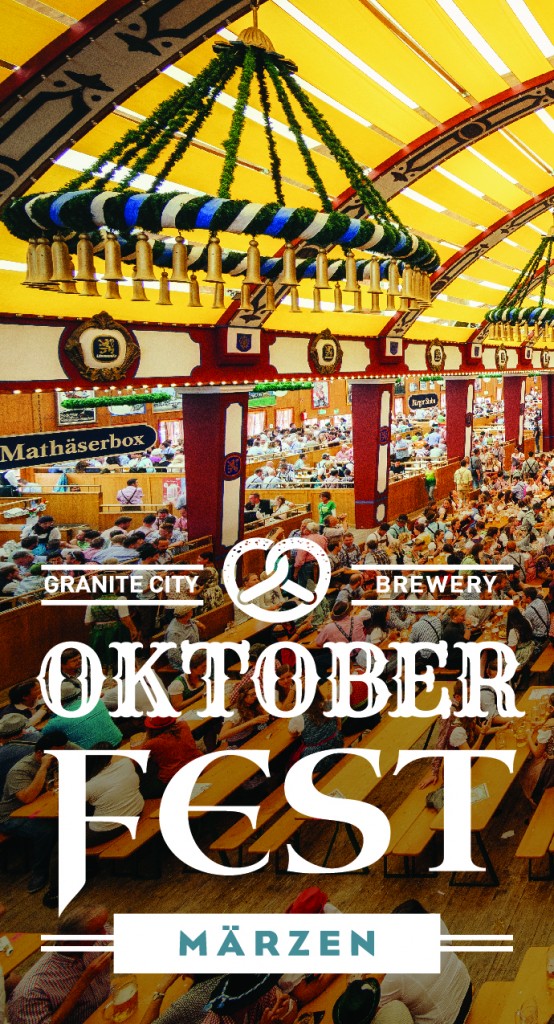 OKTOBER
FEAST

$25
HANGING BAVARIAN PRETZEL + ENTREÉ CHOICE* + CARAMEL APPLE BREAD PUDDING
ENTREÉ CHOICES INCLUDE: (choose one)
Sausage Trio Flatbread | German Wurst Platter | Granite City Reuben Melt | Brewer's Bratwurst | Jaegerschnitzel
*Entreé choice from the Oktoberfest Chef's Menu
What is Oktoberfest Marzen Bier?
Before mechanical refrigeration was developed German brewers would not brew in the summertime because the temperature was too warm to produce good beer. Beer would be brewed in the spring and then stored in cool cellars and caves to help preserve it. Brewing a higher alcohol beer would also help preserve it. The last beer brewed in the spring came to be known as Marzen beers or "March" beers. These beers would be served in the Fall near the time of Oktoberfest celebrations. Ours tastes of sweet maltiness and caramel, with hints of toasted biscuit throughout.
Style: Märzen/Lager
Color: Orangish Amber
Body: Medium
Alcohol: 6.0%
IBU: 21.8
@gcfb
Brown-Eyed Brunette Seasonal Release
SEASONAL BEER THE BLUE-EYED BRUNETTE - BOURBON BROWN ALEA traditional American brown ale with flavors of warm brown sugar, vanilla, and nuts, aged […]...