Fresh Beer Tastes Better.
OUR SEASONAL BEER
For September
• Free Admission • Beer Samples • Fun Games • Giveaways •
BLUE-EYED BRUNETTE
Bourbon Brown Ale
A traditional American brown ale with flavors of warm brown sugar, vanilla, and nuts, aged in bourbon-infused oak spirals to provide a smooth, warm finish. In the spirit of this unique and inviting flavor layered into our brown ale, we've named this our Blue-Eyed Brunette.
Style: Bourbon Brown Ale
Color: Dark Brown
Body: Heavy
Alcohol: 6.5%
IBU: 42
OG: 1.52
SRM 15.6
LIMITED RELEASE CRAFT BEER
One of our favorite seasonal brews of the year, this hand-crafted Bourbon Brown Ale Is a Smooth Malty Flavor You Don't Want to Miss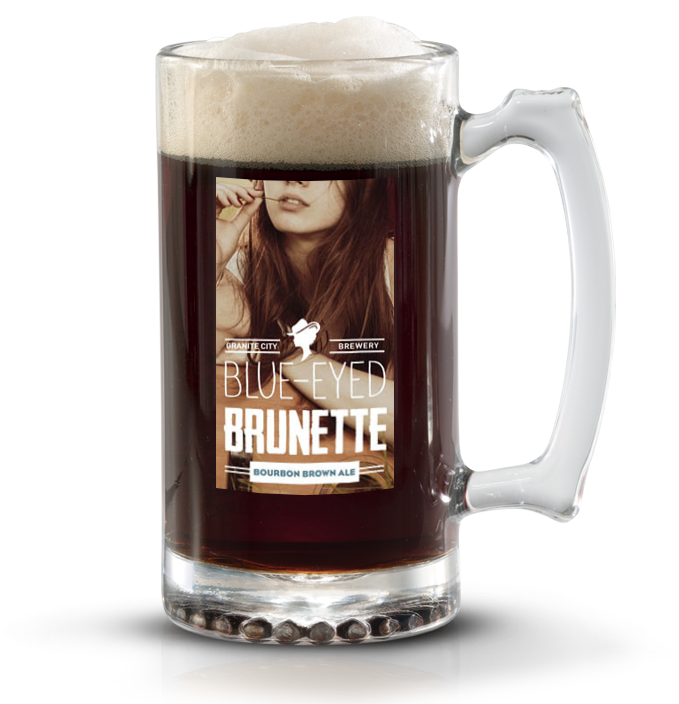 The Blue-Eyed Brunette
Chef Inspired Features: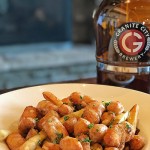 GRANITE CITY POUTINE:
Natural-cut fries layered with our homemade Blue-Eyed Brunette gravy, topped with lightly-spiced fried cheese curds and smothered in our Blue-Eyed Brunette cheese sauce.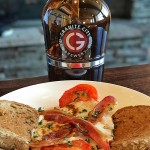 HOT BRUNETTE OPEN-FACED SANDWICH:
Grilled multi-grain bread layered with slow roasted turkey breast, Provolone, and mozzarella cheese, smothered with our homemade Blue-Eyed Brunette cheese sauce, then topped with thick cut bacon and grilled Roma tomato halves.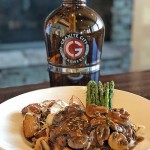 BOURBON BARREL SIRLOIN:
10 oz. Certified Angus Beef® sirloin steak, seasoned and grilled to taste, on a bed of fried onion strings, served with Chef Will's rosemary red potatoes, pan seared asparagus and our homemade Blue-Eyed Brunette rich mushroom gravy.
Oktoberfest is on
  SEPT 28th, 29th & 30th!

SEPT 28th is an Exclusive
Mug Club Event
How We Brew our Bourbon Barrel aged Brown Ale: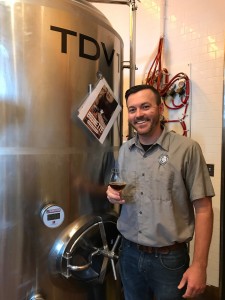 We start by using 12" tall, Medium American Oak wood spirals. We soak the wooden spirals in Elijah Craig small batch bourbon for 7-10 days. Then we transfer the soaked spirals into the serving vessel of our brown ale, and allow 3-4 weeks of aging to take place. When our brewer approves of the final taste quality we serve the Bourbon Brown Ale fresh from tank to tap.  This produces a flavor profile with subtle hints of Oak and Bourbon complimented by the roundness and nuttiness of the English variety brought to you by the best English crystal malts and English hops.
You'll also find our signature craft beers on tap at every Granite City Food & Brewery, plus several seasonal or specialty beers. Whatever your beer preference, we have the perfect brew for you!
Granite City Food & Brewery's signature brews, which are made on-site, include The Duke (Pale Ale), The Bennie (Bock), Batch 1000 (Double IPA), The Northern (American Lager), Prairie Vixen (Hefeweizen), and Broad Axe (Oatmeal Stout). Seasonal brews are featured throughout the year.

Granite City Food & Brewery now even produces all the yeast we use to ferment our artisan Ales and Lagers. It's the art and science of Craft Brewing, handcrafted by us and fermented right here and in every other Granite City location. It's a lot of effort but Granite City Food & Brewery thinks it's worth it for outstanding beer! It is a pleasure to craft this beer for you. Granite City Food & Brewery knows you will taste our unique difference.
@gcfb
"Happy Thanksgiving! May your day be filled with great family, friends, food and BEER! Cheers! 🍻 https://t.co/aNNBp1SdaO"
"Be prepared for Thanksgiving, $5 Growler Fills all day long. *Price may vary by location. https://t.co/bhrAAPI7du"
"Spread some craft beer holiday cheer! Every $25 in gift cards purchased gets you a $5 bonus card. Stop in and buy… https://t.co/1r5U34niXq"
"We're brewing up a feast! Let us cook for you and your family this Thanksgiving! Make your reservations today befor… https://t.co/QY7DkGqQJ9"
"Be prepared for Thanksgiving! Fill your growlers for $5 on Wednesday, 11/22. *Price may vary by location https://t.co/Wgh3dtULhg"