Seasonal Brews on Tap
You'll find our signature beers on tap at every Granite City Food & Brewery, plus several seasonal or specialty beers. Whatever your beer preference, we have the perfect brew for you!
Granite City Food & Brewery's signature brews, which are made on-site, include:  The Duke (Pale Ale), The Bennie (Bock), Batch 1000 (Double IPA), The Northern (American Lager), Prairie Vixen (Hefeweizen), and Broad Axe (Oatmeal Stout). Seasonal brews are featured throughout the year.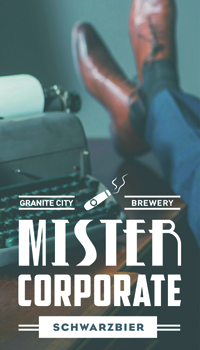 Mister Corporate
Schwarzbier
Schwarzbier ("shvahrts-beer"), is simply German for black beer. It doesn't mean that it's necessarily heavy or light in body, although they tend to lean towards light. Unlike other dark beers, like Porters or Stouts, they are not overly bitter with burnt and roasted malt characteristics that the others tend to depend on. Instead, hops are used for a good portion of the bitterness. Very refreshing and soul lifting beers, they also make a great alternative for the winter. Especially when you are looking for a lighter beer, but one with depth of color and taste. This beer is 100% hand tossed. This means that our brewers had to lug around and lift 1300lbs of grain per brew. We feel the extra work is worth it for this extra special beer.
Style: Schwarzbier
Color: Black
Body: Light
ABV%: 5.2%
IBU: 27.92
Now on tap.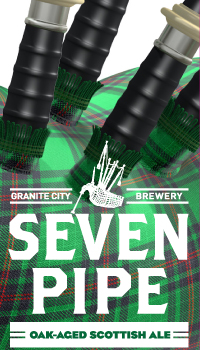 Seven Pipe
Whiskey Oak-Aged Scottish Ale
This specialty brew starts with several oak spirals soaked in Jack Daniels Tennessee Sour Mash Whiskey. After a period of 7 - 10 days we add the Whiskey infused Oak Spirals to our traditional Scottish Style Ale. We then allow the Scottish Ale at least 21 days of "aging" on these Whiskey infused Oak Spirals. This produces a flavor profile with subtle hints of Oak & Whiskey complimented by the roasted nutty flavors of Scottish variety.
Style: Whiskey Oak Aged Scottish Ale
Color: Mahogany Brown
Body: Medium
ABV%: 5%
IBU: 22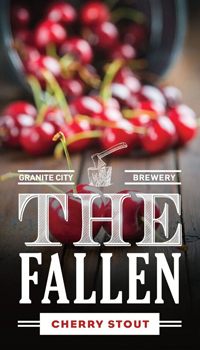 The Fallen
Cherry Stout
Roasted rich character, with a creamy chocolate and coffee flavors, with a sweet cherry presence. Pairs well with: BBQ, desserts, steak salad
Style: Dark Cherry Stout
Color: Opaque Black
Body: Medium
ABV%: 5.5%
IBU: 29.3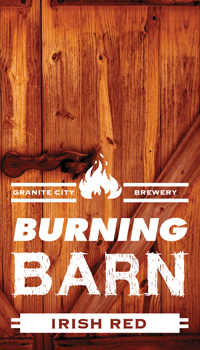 Burning Barn
Irish Red Ale
The Brew House in Ellsworth Iowa sits on a former farm site. There was an old barn that was on our site that had to be destroyed. We did so by burning it to the ground
Style: Irish-Style Red Ale
Color: Ruby Red
Body: Medium
ABV%: 5.7%
IBU: 19.2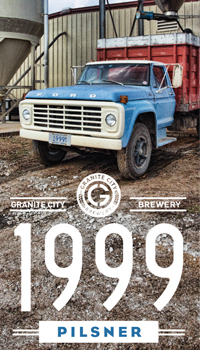 1999
Pilsner
Floral aroma with a rich, complex maltiness combined with a pronounced yet soft, rounded bitterness and spicy flavor
Style: Pilsner
Color: Pale Gold
Body: Light
ABV%: 6.27%
IBU: 44.39
BlueBerrian
Blueberry Lager
This beer is ever evolving and we have now settled on a Lager style. As a Lager, we found the bright fruit flavor and clean finish we were striving for. This beer is slightly malty and subtly fruity; neither flavor overpowers the other which gives us this smooth, drinkable beer, with a hint of refreshing blueberry. The blueberries add a hint of purple making it tasty and attractive!
Style: Blueberry Lager
Color: Amber with a purplish hue
Body: Medium
ABV%: 4.2%
IBU: 10.6
Gold Fever
Belgian Golden Strong Ale
A very Unique yeast strain with origins in Belgian 'spontaneous fermentation' provides the most prominent flavors in the Gold. A beautiful golden-colored ale, with strong fruity, spicy and malty flavors. Belgian Golden ales are a perfect introduction to the world of Belgian beers. Subtle hints of apple, pear, cinnamon and clove meld with hearty maltiness to yield a clean, slightly-sweet ale with a crisp finish. This beer is very drinkable but be careful; this beer is strong and should be sipped and savored.
Style: Belgian Strong Ale
Color: Golden
Body: Full
ABV%: 7.8%
IBU: 29.5
Lazy Lake
Kolsch
A very traditional German beer. It has very low malt characters with little more bitterness. This is very light, crisp and makes for a great summer brew. It was first brewed in Cologne, Germany. It has some very subtle tastes that come from its different fermentation style. This Ale is fermented a little colder than usual at 65° F.
Style: Kölsch
Color: Pale Golden
Body: Light
ABV%: 4.8%
IBU: 18
Blue eyed Brunette
Bourbon Brown Ale
This Specialty brew starts with several oak spirals soaked in 12 year, Elijah Craig Bourbon. After a period of 7-10 days we add the Bourbon infused Oak Sprials to our traditional Brown Ale. We then allow the Brown Ale at least 21 days of "aging" on these Bourbon infused Oak Spirals. This produces a flavor profile with subtle hints of Oak & Bourbon complimented by the roundness and nuttiness of the English variety brought to you by the best English crystal malts and English hops..
Style: Bourbon Oak Aged Brown Ale
Color: Brown
Body: Medium
ABV%: 5.6%
IBU: 42
Freezer Burn Winter Warmer
Dark Amber
Aromas of spicy cinnamon with flavors of up front sweetness with toasted caramel and light fruit taste. Heavy spice notes from the tea, cinnamon, star anise, nutmeg, clove, whole black pepper, cardamom, ginger that finish with a slight bite or hear on the tongue. Did anyone say Chia Tea please!
Style: Spice Beer
Color: Dark Amber
Body: Full
ABV%: 8.0%
IBU: 28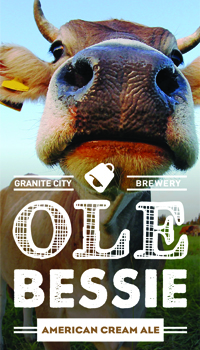 Ole Bessie
American Cream Ale
Cream ale came into being sometime in the 1880s. It was an invention by American ale breweries who wanted to compete with the lagers that began to spread from the eastern seaboard throughout the New World after the American Civil War. Because cream ale was made by ale breweries which tended not be set up for cold fermentation, it was probably brewed warm regardless of yeast type, at least until prohibition. These beers fell out of popularity after prohibition due to smaller breweries closing and better refrigeration that made lagers easier to produce.
Style: American Cream Ale
Color: Pale Yellow
Body: Light
ABV%: 5.3%
IBU: 13.6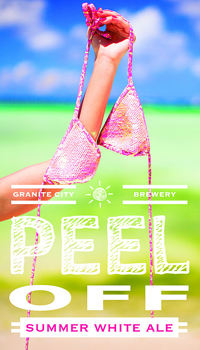 Peel Off
Summer White Ale
Our White Ale is a perfect thirst quencher. We took light barley and wheat and flavored it with sweet Curacoa orange peel, Coriander seeds and Chamomile. Add a Belgian yeast that gives light fruit flavors and we get "White Ale" a light and citrusy, refreshing summber beer.
Style: Belgian Wit
Color: Pale White Gold
Body: Light
ABV%: 5.3%
IBU: 20.2
Oktoberfest
German Oktoberfest/Marzen
Before mechanical refrigeration was developed German brewers would not brew in the summertime because the temperature was too warm to produce good beer. Beer would be brewed in the spring and then stored in cool cellars and caves to help preserve it. Brewing a higher alcohol beer would also help preserve it. The last beer brewed in the spring came to be known as Marzen beers or "March" beers. These beers would be served in the Fall near the time of Oktoberfest celebrations. Ours tastes of sweet maltiness and caramel, with hunts of toasted biscuit throughout.
Style: Märzen/Lager
Color: Orangish Amber
Body: Medium
ABV%: 6.0%
IBU: 21.8
Zug Zwang
Vanilla Porter
All the roasted and chocolate flavor that you'd expect from a classic Porter. The addition of real vanilla bean adds unparalleled complexity and a rich, smooth, caramel flavor.
Style: Vanilla Porter
Color: Dark Brown
Body: Full
ABV%: 5.7%
IBU: 23.6
@gcfb
Two Seasonals Now On Tap
We decided to start the new year not with just one seasonal craft beer... but two!  Currently on tap:Seven PipeWhiskey Oak-Aged Scottish AleThis specialty brew starts with several oak spirals soaked in Jack Daniels Tennessee Sour Mash Whiskey. After...